Your BFF deserves something beautiful. This Valentine's Day, treat your best gal pal to a fresh fragrance, gorgeous makeup, and self-care essentials.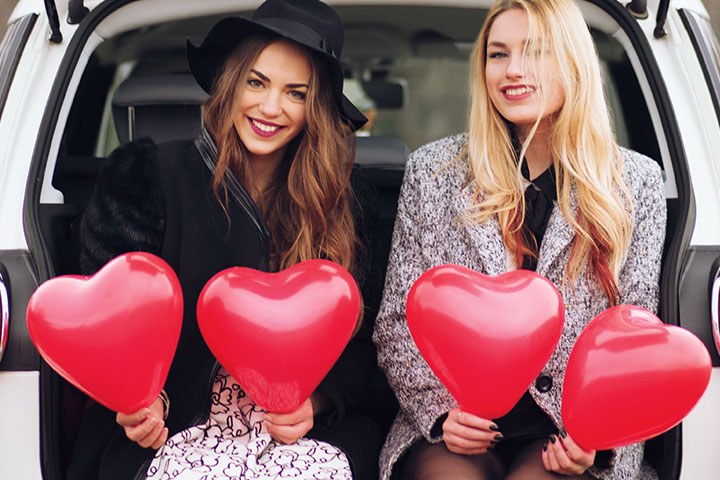 Valentines Day is quickly approaching, and it's time to start thinking about what you want to give to your loved ones. We all know that Valentine's Day is the day of love, but what does it mean for you? It could be a day of giving, showing love, or receiving gifts. This year, why not try something new and different?
Galentine's Day is a day was created by Leslie Knope in Parks and Recreation to celebrate female friendships. It is celebrated on February 13th which is the day before Valentine's Day, when women are often excluded from celebrations of love and friendship.
Valentine's Day is coming up and we want to share with you some of our favorite gifts.
Check out our Galentine's Day gift ideas below.

TO GET HER GLOWING

Make her glow with fmg Colors of LOVE Glow Balm Illuminating Stick, which blends effortlessly for the perfect shimmering topper. She'll love the good-for-skin formula of antioxidant pomegranate extract, moisturizing mango, and shea butter, and the soft natural, illuminating appearance this glowing makeup provides.

A MULTI-USE MAKEUP STICK

Give her a gift that's so jelly, like VDL Creamy Stick Jelly, a multi-use makeup stick that glides on and blends effortlessly to give lips and cheeks a dewy flush of color. Infused with botanical extracts for antioxidant benefits and moisturizing shea butter.

A LUXURIOUS SKINCARE SET

Your best gal is always there for you—she deserves a little luxury. Treat her to Mission Luxereve Essence Set, which comes with a rolling face massager made from blue aventurine stone to promote absorption of serum and cream to help visibly firm and tighten skin. Also includes rejuvenating Mission Luxereve Serum and Cream—everything she needs to enjoy her "me" time.

FRESH SCENTS FOR THE HOME

Who doesn't love an uplifting scent? Elevate her living space with an indulgent scented candle or a luxe essential oil diffuser. We love the LYRD Peony & Cedar Candle, featuring a captivating blend of enchanting peony, eucalyptus white cedar. This fine fragrance candle will add a little romance to her home. Amp up the ambiance even more by gifting her the Avon Pure Ceramic Aroma Diffuser. This premium dome-shaped diffuser will scent her space with essential oils while doubling as a sleek and beautiful décor piece.

AN INDULGENT LIPSTICK

Pamper her pout with fmg Cashmere Essence Lipcream, which features a melting balm-like texture that glides on effortlessly, wrapping lips in luscious shine and comfort. Enriched with a concentrated blend of anti-aging ingredients, including ginseng cell extract, antioxidant meadowfoam seed oil, and vitamin E, this luxurious formula gives lips some love. Not to mention, it's the only lipstick in the U.S. with a Bio-Retinol Core.

A BATHTIME ESSENTIAL

Elevate her bath with our iconic bath oil. Skin So Soft Soft & Sensual Bath Oil features an argan oil formula that helps restore skins moisture while awakening and soothing the mind and body. Complete with a fresh floral scent for an indulgent bathing experience.

A LUXE MASSAGING TOOL

For her "me time. " Featuring chrome-plated rollers and an easy-to-handle grip, Avon Eclat D'or Youth Activating Massager delivers the ultimate at-home facial massage. Her skin will feel revived and visibly tightened after using this unique tool, and she'll love the luxurious spa-like experience it provides.
How do you plan to celebrate Galentine's Day?